Building 45
Area:
4040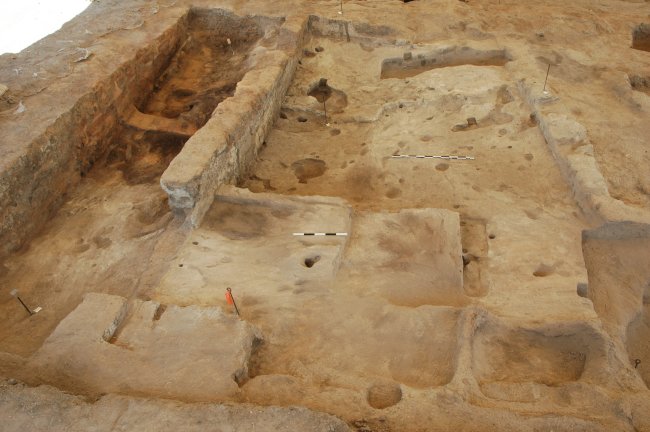 Click on the Plan below to view the related Space, Feature and Unit Sheets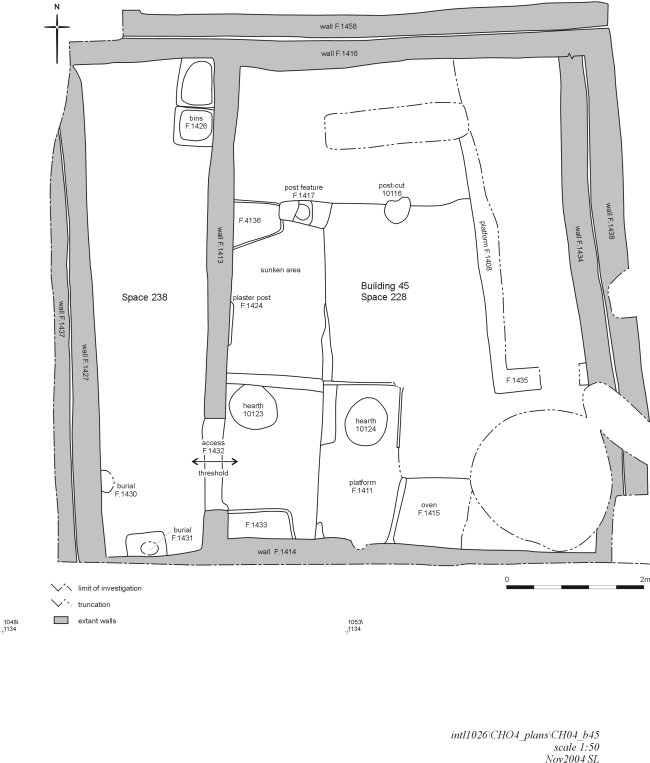 Large Neolithic building, over 7m square. Consists of a main activity space 228 and side room 238. Access to this secondary space was through a crawlhole located in the SW corner of space 228.
An oven is located in the SE corner of space 228 (F. 1415) and this is probably where an access ladder was located. Between the oven and the crawlhole are two large platforms (F. 1410, 1411). The western platform is of an earlier date and the eastern platform appears to have been constructed over an earlier feature, possibly an oven. Both platforms have evidence of burning on them. The northern platform slumps steeply to the south and is cut by both Neolithic and later features.
Between the northern and southern platforms runs a lip in the floor (F. 1428) which divides a series of clean floors to the east from dirtier floors to the west. At the edge of the northern platform (F. 1409) a molded clay pillar survives to the height of 0.15m. Originally this feature had a square base but later alterations changed this to be rectangular in shape.
At he western side of space 228 an engaged pillastar is visible as a scar in the wall plaster. This feature was robbed out prior to the buildings destruction. The eastern platform in space 228 (F. 1408) is heavily truncated and only a thin strip of the western edge survives.
Space 238 appears to have been a storage area. Two bins were found at he northern end (F. 1426). The space also contained several animal skulls and two baby burials cot into the floor (F. 1430, 1431). The space was destroyed by fire, apparently originating at the northern end of the room. This resulted in the room being filled with burnt mudbrick, evidence of in-situ burning of timbers survives around the crawlway. Space 228 by contrast appears to have escaped any serious damage by fire.
Number of Related Diary Entries:
7
Conservation Recorded: No
Related Photos: 295 (Opens as a group in a new window)
Space Numbers Related to this Building: (Click to view the record)


Feature Numbers Related to this Building: (Click to view the record)


No. Of Units identified in this Building: 117 Click to view unit list