History of the excavations
The Neolithic site of Çatalhöyük was first discovered in the late 1950s and excavated by James Mellaart in 4 excavation seasons between 1961 and 1965. The site rapidly became famous internationally due to the large size and dense occupation of the settlement, as well as the spectacular wall

paintings and other art that was uncovered inside the houses. The results of these excavations as published can be found on the reading list.




Plan of James Mellaart's excavations
showing the dense house lauyout.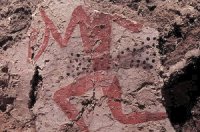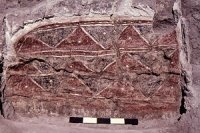 Wall paintings discovered in the 1960s
| | | |
| --- | --- | --- |
| | As well as wall paintings and wall reliefs, many objects of daily life were uncovered. Some were decorative such as exceptional flint 'daggers' with decorative bone handles (right) and clay or stone figurines (left), depicting human figures and animals. Other utilitarian objects include obsidian, flint, pottery, worked bone and clay balls. Another distinguishing feature of Çatalhöyük was the nature of the houses: they had no doors to the outside and were clearly entered through ladders from the roof, and the inhabitants buried their dead under the floors of their platforms. | |
Since 1993 an international team of archaeologists, led by Professor Ian Hodder, has been carrying out new research at Çatalhöyük. After the first seasons of surface survey, the excavations in the North and South Areas began in 1995 and have continued up to the present day. During the first phase of excavation to 1999 teams based in Cambridge, Berkeley and Thessaloniki joined Turkish colleagues to excavate individual buildings. The primary aim was to study the depositional processes in houses. For example, Buildings 1 and 5 were excavated on the North part of the site, and Building 5 has now been put on display. The Berkeley team excavated the BACH Building 3 also in the North Area. Since 1999 work has focused on publication, and on a new and more expansive approach to the excavations so that the overall organization of the site can be studied. The team is now based in Stanford, Berkeley and London, and we have been joined by teams from Poznan University in Poland, and from Istanbul and Selcuk Universities. The main excavation areas are the TP and South and Istanbul areas in the south part of the mound, and the 4040 Area in the north. Throughout, there has been excavation also on the Clacolithic West Mound, and to the north of the East Mound in the KOPAL Area. All this work is documented on this web site in Newsletters and detailed Archive Reports.
Finds from the recent excavations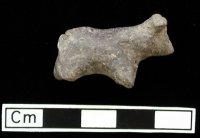 Clay figurine
| | |
| --- | --- |
| Bone hook | Neolithic pot |
| Obsidian point | Stone and shell beads |
---
© Çatalhöyük Research Project 2005