Press Release 2009 Season
Turkish Cultural Foundation supports conservation, training and visitor access at Catalhoyuk
Over recent years the Turkish Cultural Foundation has been generous in supporting public access, conservation and conservation training at Catalhoyuk. The Foundation has in particular supported the construction of the magnificent new shelter over the 4040 Area of the site. This new shelter has been widely praised as making an important contribution to the cultural heritage of Turkey.
In 2009 the Turkish Cultural Foundation made important contributions in the following areas of work at the site. In partnership with the Global heritage Fund they supported the use of local labor in finishing the construction of the shelter and in providing new walkways and visitor interpretation panels in the 4040 shelter and in the existing South shelter. They made possible conservation work on the mudbrick buildings and paintings in the 4040 shelter. During this work Turkish conservation students were trained as were local Turkish members of the team. Curators in the Konya Museum were trained in the placing of previoulsy lifted wall reliefs on display.
The close linkes between the project and the Turkish Cultural Foundation are also visible in the special explanations of the site that are given by the directors of the project and excavation to tours of teachers from the United States on tours organized by the Foundation. This is an important mechanism for informing new generations of young people about the site.
The project is enormously grateful to the Turkish Cultural Foundation for their support.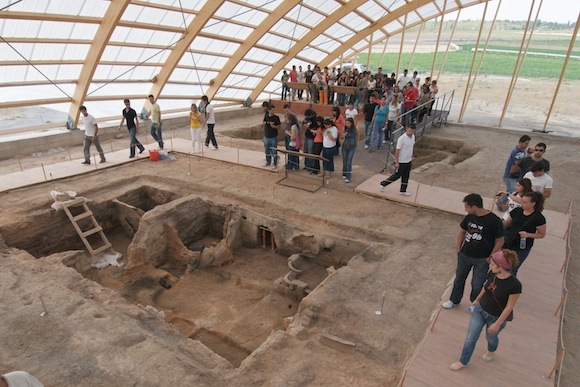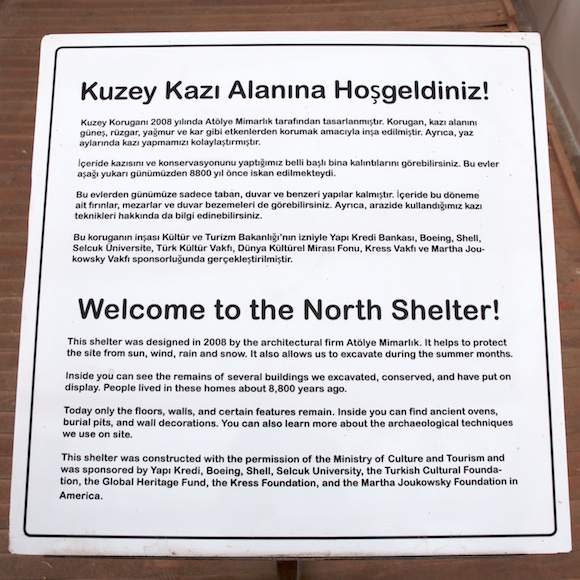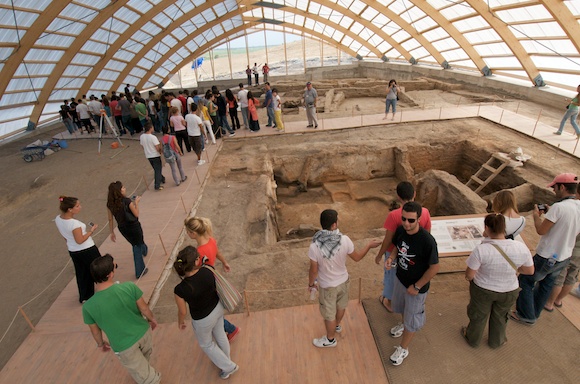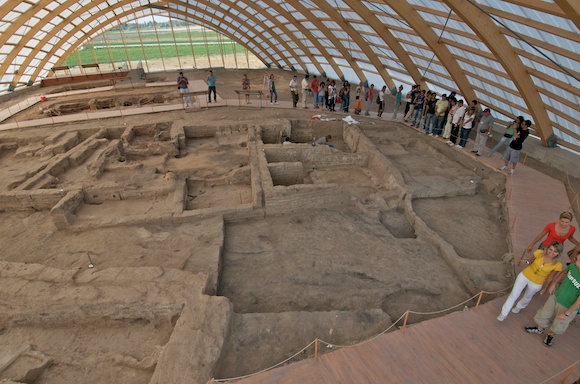 Visitors to the 4040 North Shelter. Photos: Jason Quinlan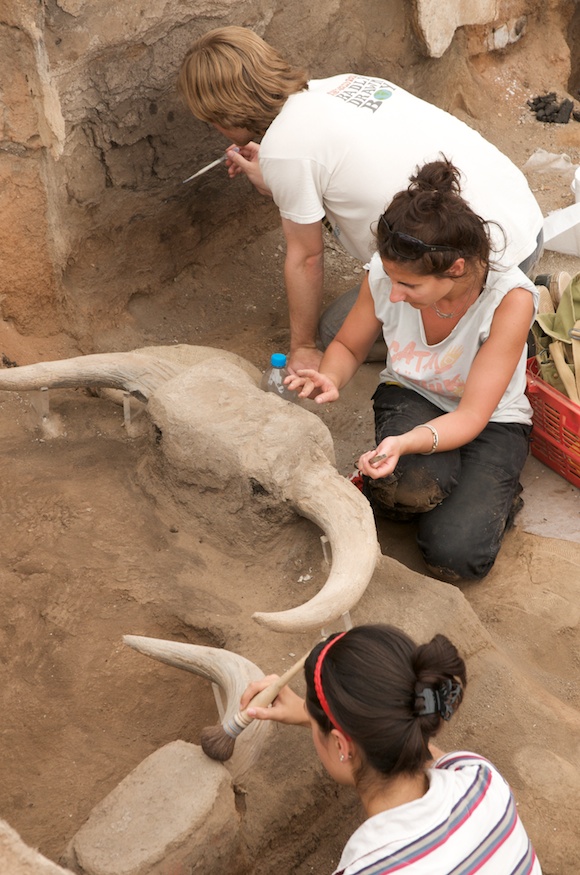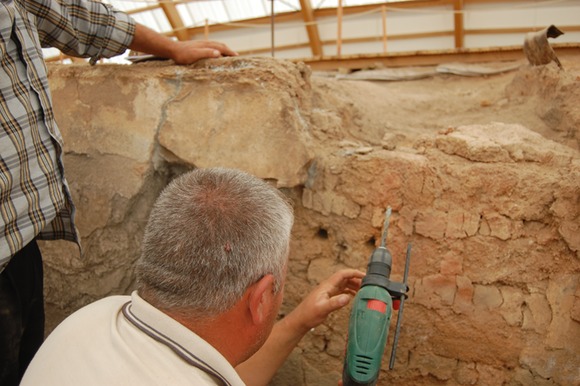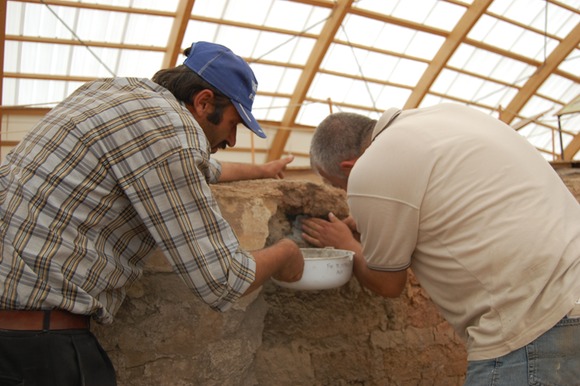 Training students and local Turkish team members in conservation under the North Shelter in Building 77 . Photos: Jason Quinlan & Duygu Cleere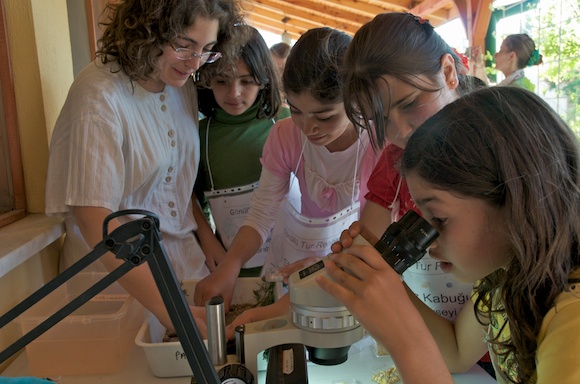 Local children participating in Community Day. Photo: Jason Quinlan
Turkish Cultural Foundation Teacher Tours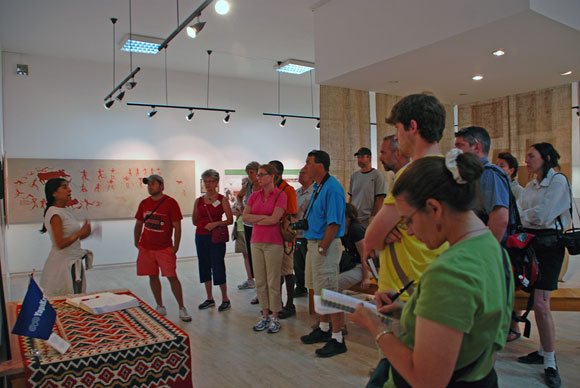 Our visit to Çatalhöyük was informative and energizing! Being a World History teacher, I quickly embraced the opportunity to explore this Neolithic settlement. The presenter (guide), Shanina (expert from the U.K) was full of passion and enthusiasm which contributed to a dynamic visit to Çatalhöyük! She captured our attention right from the start. Personally, it might be the catalyst to accelerate my plans for starting my doctorate program in 2010! Karen M. Haley, Dallas, TX, USA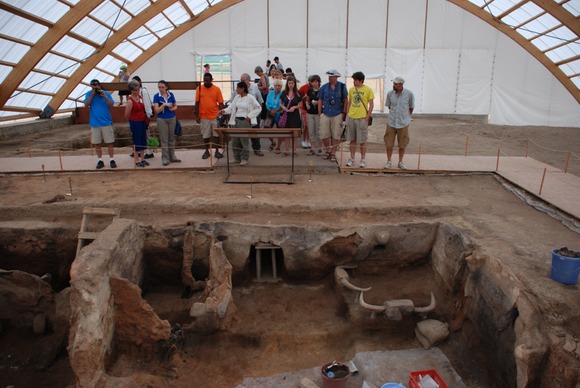 Going to Çatalhöyük was one of the most awesome experiences of my life, having taught about it in Art History college courses for years. Professor Hodder enlightened me to information that was never contained in any of the Art History books I have had, so that visit enlightened me in ways I will never forget and always be impressed by, as it will change my teaching for the better from now on. Plus I can't wait to watch their progress! Corliss Block, Saugerties, New York, USA