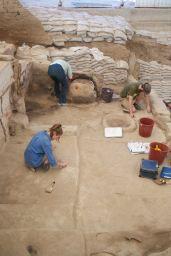 Would you like to excavate at the world heritage site Çatalhöyük in Turkey? We are looking for excavators experienced in single context excavation and recording that would like to work in Turkey during spring and summer 2016. You will be working in a small team of excavators and finds specialists and will live on site for the duration of the excavation.
Work period: April/May – August 2016
Working hours: 7:00-15:00 and 17.00-19:00 five days per week (with the possibility of working six days per week to save days for a longer continuous period off).
Salary: 3,200 USD per month, plus travel, room and board.
Requirements: Applicants should have at least a few years experience of excavation, with some experience of stratigraphically complex sites. Applicants should be familiar with excavation and recording according to the single context method. Experience of digital recording (using ArcGIS, digital planning and 3D documentation using photogrammetry) is a plus.
Please send your application letter (there is no special application form), CV, names and email addresses of at least two referees to catalhoyuk@stanford.edu no later than 15 July, 2015. We will make a preliminary decision on the team shortly there after. Due to Turkish regulations, in order to be considered for a position it is necessary to commit in August 2015.
If you have questions please contact: Åsa Berggren (asa.berggren@sydsvenskarkeologi.se)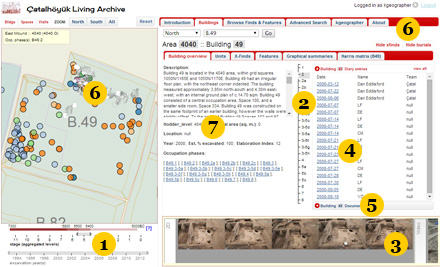 A Çatalhöyük Living Archive is currently in development, and pilot phase work is available for viewing and comment. It includes an experimental web application with spatial-temporal visualization of browse and search results and linked data publication.
This Web site is designed for those interested in the ongoing excavations at Çatalhöyük, Turkey. Its aim is to provide information about the activities of the Project and of the different aspects of the research being conducted at Çatalhöyük.
The Neolithic site of Çatalhöyük was first discovered in the late 1950s and excavated by James Mellaart between 1961 and 1965. The site rapidly became famous internationally due to the large size and dense occupation of the settlement, as well as the spectacular wall paintin gs and other art that was uncovered inside the houses.
Since 1993 an international team of archaeologists, led by Ian Hodder, has been carrying out new excavations and research, in order to shed more light on the people that inhabited the site.

All content on this website (including text, photographs, videos, and any other original works)
is licensed under a Creative Commons Attribution-NonCommercial-ShareAlike 3.0 Unported License.