---
ÇATAL NEWS 1
THE NEWSLETTER OF THE ÇATALHÖYÜK RESEARCH TRUST
JANUARY 1995
---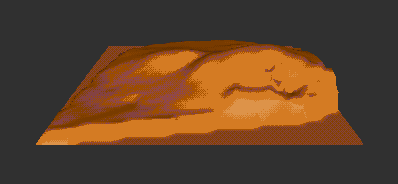 Click image for interactive model of the mound (VRML plug-in required)
---
This Web page is designed for those interested in the ongoing excavations at Çatalhöyük. Its aim is to provide information about the activities of the Trust and of the different aspects of the research being conducted at Çatalhöyük. Work restarted at the site in 1993. The page provides an opportunity to pass on information about what the aims of the project are, what has been achieved so far and what is planned for the future.
---
Newsletter 1 Contents:
---
Directions: pressing the daggers with move you forward and backward in the Çatal Newsletter. Pressing on the clay figurine will give you a table of contents.
---